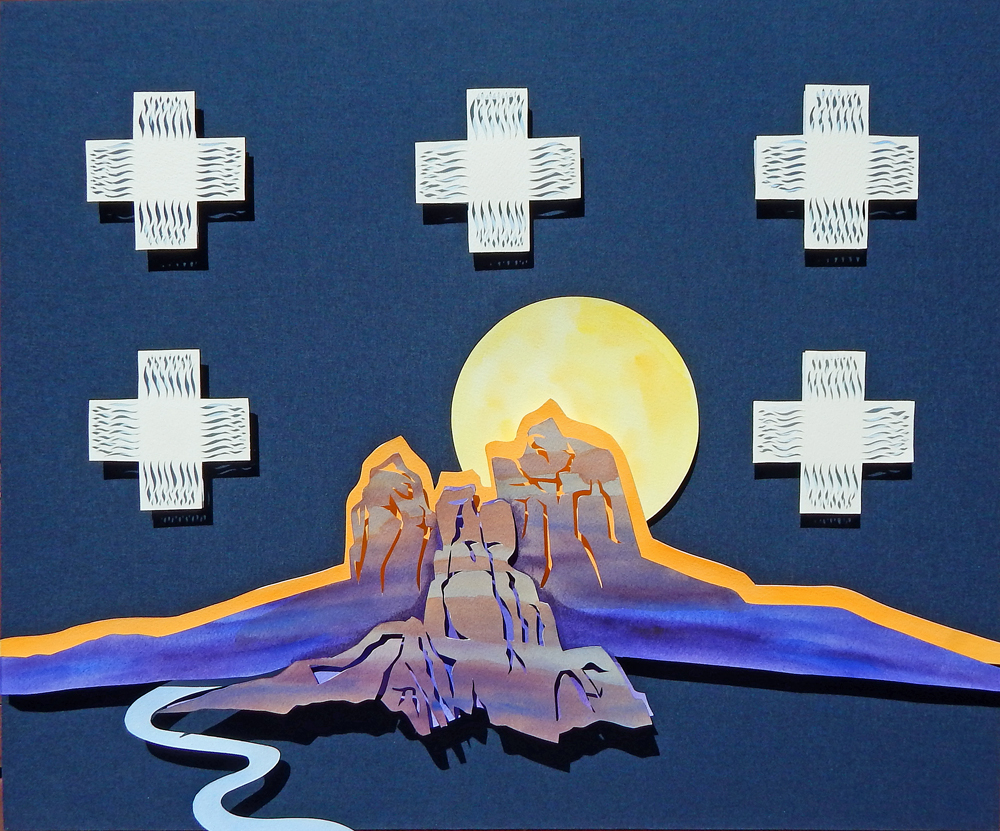 The first of the Georgia O' Keeffe inspired series, "Where Land and Sky Meet" emulates the clean, natural beauty of the earth; the moon, stars, mountains and water.
This series began with two distinct visions. The first, a buffalo skull with pops of red Indian Paintbrush and paper cut birds in flight.
The second vision appeared while driving down Cerrillos Road in Santa Fe during the Indian Market in August 2016. With stomachs growling and mouths watering
we were on our way to "The Pantry" for our favorite Huevos Rancheros. As the scenery passed by, in my mind's eye I saw four by four rows of paper cut crosses (stars)
and a very slim blue silhouette of the mountains within a dark blue background.
Jump ahead two days…I experienced an AH HA moment when I visited the Georgia O'Keeffe museum in Santa Fe. "Starlit" hung on a wall all by itself
in one of the smaller exhibit rooms, pulling my heart close to the watercolor. It had the same elements as the new design I had quickly sketched on a napkin, days before.

The 3- dimension gives the piece a sculptural quality, creating an ethereal space and time for one to reflect on their life. Depending upon the time of day and amount of direct sunlight,
the shadows are ever changing. This keeps them interesting and intriguing.